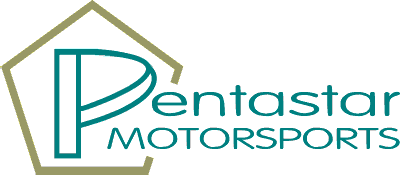 ---
Springport Motor Speedway - May 17, 2008

MAURICE WINS AT SPRINGPORT
The track record at Springport Motor Speedway was set early in 2007 by Scott Phillips at 18.86. It was a record that nobody has been able to catch until now. On the first of two qualifying laps, Maurice Randall broke the record with a nice lap at 18.84 and then on the second lap, an incredible 18.68 appeared on the scoreboard in turn 2. This is the second track record in two weeks for Maurice after having established the track record at Kalamazoo the previous week.
The heat races used an odd/even lineup and since the top three point leaders qualified 1st, 3rd, and 5th, they would all face each other in the first heat race. Heat races are hotly contested in the Mini Cup series since every point counts toward the season long championship. Maurice got caught behind slower traffic early on while the #72 Dodge driven by Jim DeBaeke and the #7 Hooters car driven by Scott Phillips got through cleanly and charged to the front. The two raced each other during the 8 lap race with Phillips coming out the winner and DeBaeke second. Randall finally got clear and set sail for the lead two cars and was reeling them in but ran out of time and wound up 3rd. The second heat race was won by Tim Phillips driving the #8 Budweiser Chevy. Trent Jensen had an excellent run in this heat race until he spun in turn two bringing out a yellow flag and had to restart from the rear when the green flag came back out.
In the feature, all the faster qualifiers vowed to head towards the front as quickly as possible in the hopes of holding off the fast #93 StreamNetRadio.com Dodge being driven by Maurice Randall. And they did just that with Tim Phillips wasting no time in moving to the front in the early going. Tim's son, Scott, soon followed as he raced to the front rather than using his usual patience in getting past the slower traffic. Likewise, Maurice Randall wasn't about to let these guys get too far away and stepped on the little Dodge's throttle hard. He caught the lead duo and they raced nose to tail for several laps. Eventually, Scott Phillips was able to make a pass on the inside of Tim Phillips and took over the lead. A couple of laps later, Maurice Randall made the same pass on Tim and closed onto the rear bumper of Scott with Tim in tow. Very close behind this lead trio was last week's feature winner, Jim DeBaeke, just riding it out and waiting for any slip of the three front-runners. Any mistake by these three and Jim was right there.
Scott and Maurice pulled away from Tim and Jim just slightly and with 5 laps to go, lapped traffic became a factor. Scott made it by but the timing just wasn't right for Maurice as he got caught up behind the slower car going into turn one. He was able to get by coming out of turn two but this holdup allowed Scott Phillips to open up about a 7 or 8 car lead. Afterwards, Maurice stated, "I thought it was all over at that point. But I drove that little car just as hard as I could and was able to get back up to Scott's bumper within 3 laps. I couldn't believe I caught him because he was really running good in the feature".
With just two laps to go Maurice made a move on the inside of Scott coming out of turn two. "I figured it was now or never. I was getting a big run through 1 and 2 and just kept turning the wheel hoping I could keep it going and get inside of Scott coming out of two and it worked. We raced down the backstretch and into turn 3." Scott had this to say after the race, "I thought I almost got Maurice back as I stayed as wide as I could going into 3 and then used a little help from the banking to shoot down through 4 to get back inside down the front straight. I almost got up to him, but he just took off once we got on the straightaway."
"Man, Scott sure drove a clean, hard race. He sure made it tough and I know we all gave the fans a good show. This was probably the best Mini Cup race ever at Springport.", Maurice stated after the race, "And leading those last two laps was nerve wracking. I knew Scott was right there and I didn't dare slip at all."
The two 3/8ths mile speedways these half-scale Mini Cups have raced on so far this year are almost like the big cars racing on superspeedways. Now they move on to the smaller 1/4 mile at Spartan Speedway on May 25th for some short track racing. This will be a different setup for everyone and Maurice hopes to get his car figured out so he can stay competitive once again in his first year with this series.