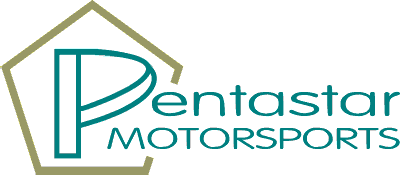 ---
Mount Lawn Speedway - June 14, 2008

Tim Phillips and Maurice Randall traveled to Mount Lawn Speedway in Indiana to do battle with the Indiana Mini Cup stars. This was Tim's second visit there but it was the first time for Maurice.
Tim thought he had his fuel problems from the previous weekend at Springport all straightened out, but discovered the problems were still there. He worked on the car all afternoon after running poorly in practice and dropping out of his heat race. He finally nailed down the problem just in time to make the feature. It turned out to be a loose pickup tube in the fuel cell.
Maurice was fighting an extremely loose condition during practice and his heat race. For the feature, he decided to make a major chassis adjustment and hoped that it was going to help.
At Mount Lawn, the Mini Cups do not qualify. They draw for starting positions in the heat races. Then the finishing order of the heat races determines the starting positions for the feature. With a poor showing in the heat race, this put Maurice on the inside of row 2. However, the pole sitter failed to start and so this moved Maurice up to the pole position at the start of the race. Not knowing how the car was going to handle, Maurice took advantage of his starting position and took off without hesitation. He led the race for several laps before being challenged by 14 year old Courtney Hannah. Maurice said, "I didn't know what to expect when Courtney got up on the inside of me, but she drove me just as clean as anyone would. I was really impressed with her performance." The two ran side by side for a few laps until Courtney finally was able to complete the pass.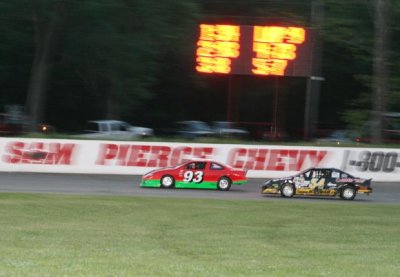 A blurry scoreboard shows that #34 Courtney Hannah was leading on lap #9, but Maurice raced her back for the lead down the back straightaway.
The eventual winner, Jeff Gerline, passed Maurice a couple of laps later and then went to work on Courtney. For the remainder of the race, Tim Phillips was also knocking on the door but never got the opportunity to get around Maurice. Maurice wound up third with Tim in fourth. Afterwards, Maurice said "Although the car still could have been handled better, I was at least able to drive it. We'll be in good shape the next time we come down here."
Next on the schedule is Spartan Speedway on June 20th.